Boat Details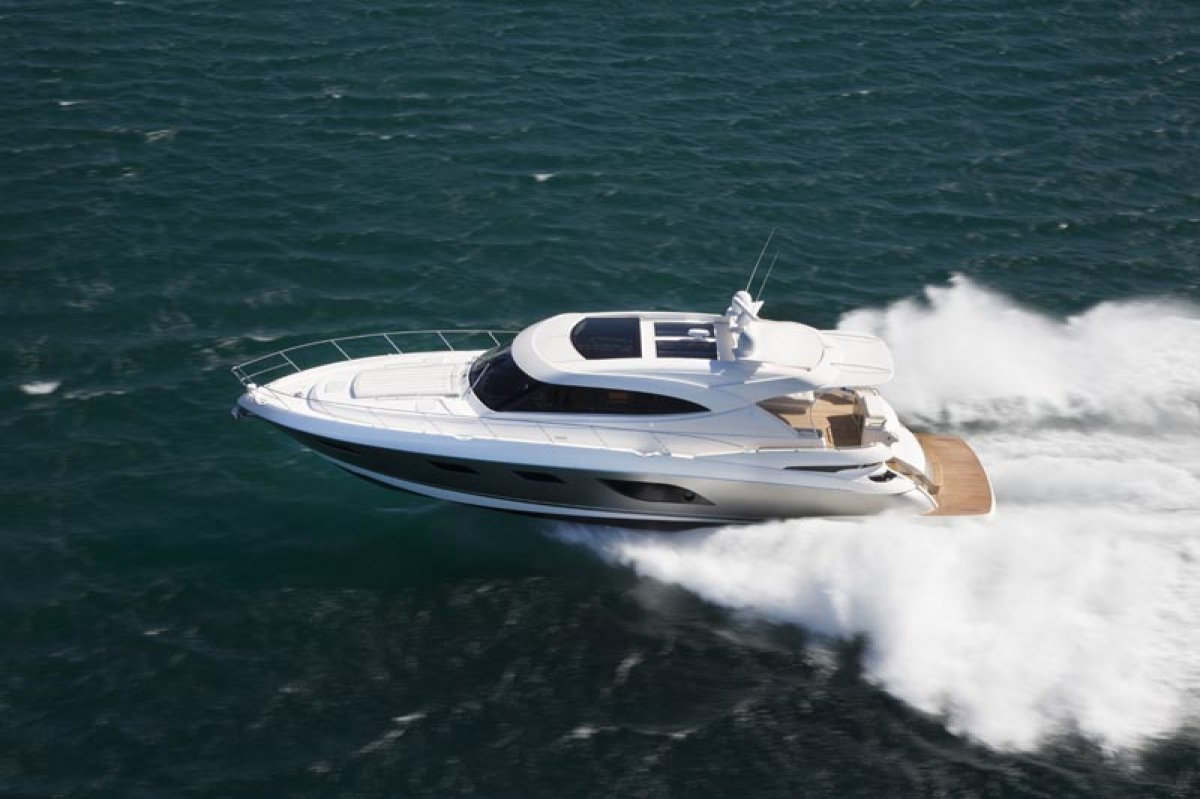 Price
$POA
STEP ABOARD
Stepping up from the large hydraulic swim platform and through either of the wide transom side gates into the teak-laid cockpit of the 6000, you'll immediately appreciate the evolution of the luxury indoor/outdoor character for which our Sport Yacht series is internationally renowned. A closer inspection of the generous 10.5m2 (113ft2) cockpit confirms the clever lifestyle and storage concepts of the 6000. A practical twin barbecue with convenient drawer fridge and freezer sits conveniently aft above a large garage where a 3.2-metre (10.5ft) tender with permanently mounted outboard can be easily loaded with the built-in electric winch, with additional room for accessories and water toys.

The 6000's curvaceous fibreglass hardtop extends well aft to provide shelter and shade from the extremities, and houses the cockpit's own electric sliding sunroof which brings extra sunlight and fresh air into the alfresco area when desired. An L-shaped lounge/dining area to port comfortably seats six people, and a teak table lowers to create a large daybed. There's also a two-metre lounge to starboard to seat an additional three people, further reinforcing the entertainment and enjoyment of the 6000 Sport Yacht and confirming this yacht is indeed: 'the ultimate entertainer'.

Wide, walk-around non-slip side decks with well-placed hand rails give access to her colossal-sized sun pad which sprawls the centreline of the foredeck. Here there's an independent two-speaker Fusion AM/FM stereo with Bluetooth and USB port, as well as handy water-tight storage compartments and, of course, a deep ice box to keep your refreshments perfectly chilled while you soak up the sun.

STEP INSIDE
The free-flowing feel throughout the 6000 is enhanced with a large glass awning window which opens between the cockpit and spacious saloon, bringing the outdoors indoors and affirming the aft U-shaped gourmet galley as the central entertainment hub of the yacht.

Of course the galley boasts a premium brand induction cooktop, dishwasher, convection microwave oven and rangehood as well as three top-of-the-range drawer fridges and two freezers, as well as a convenient pull-out pantry. An optional tinted bronze glass finish to the overhead galley cabinets adds yet another touch of refinement to the varnished joinery used throughout the yacht.

Natural light in the galley is enhanced with fixed overhead skylights with block-out shade blinds and a second Webasto electric sunroof above the saloon dining, lounge area and helm. Air-conditioning is standard to both the saloon and galley however natural breezes are also captured through the sunroof and through opening windows to port and starboard.

The spacious and elegantly appointed saloon, with its soft-touch natural leathers and highest quality fabrics, is perfect for indoor entertaining, relaxing or even working whilst aboard. A U-shaped lounge with dinette table to port seats six adults, and a large two-metre, three-seater lounge opposite is large enough to enjoy a lazy afternoon nap and versatile enough to provide a work space or additional dining area. The lounge's central ottoman can also be used as an extra seat around the dining table for games or quality time with the family. This space can also be utilised to create a custom wet bar, if you prefer.

The extensive indoor entertainment system includes a 40" LED TV integrated with a Bose AM/FM stereo, DVD player with amplifier, sub-woofer and four speakers to the saloon, with additional speakers via a second-zone, two-speaker system to the cockpit.

STEP BELOW
The owner's stateroom presidential design is an expansive and luxurious private retreat, with additional storage and a casual dining and sitting area to port which is ideal for a private breakfast or a quiet work space. The casual dining table also doubles as a fold-up make-up bureau. The presidential layout also features extra drawer storage at the base of the television, as well as additional forward full-length hanging wardrobe.

In the standard layout, transition glass helps flood the full-beam master stateroom with natural light when the large and luxurious port-side ensuite is not in use, yet offers complete privacy at the press of a button. There is also a make-up table and ottoman forward and a three-seater leather lounge to starboard.

Both designs feature a king-size, walk-around bed with innerspring mattress amidships, contemporary timber-finish headboard and bedside tables, deep walk-in wardrobe aft, as well as a third and convenient C-Zone digital switching control panel. The master stateroom entertainment system comprises a bulkhead-mounted 40" LED TV and Samsung home theatre system, while deep windows on either side, as well as opening portholes on both sides, add a striking visual feature as well as ensuring plenty of fresh air.

The ensuite in each master stateroom design boasts luxurious fixtures, complemented by a heated towel rail and the highest quality Italian ceramic non-slip flooring. A frameless glass door leads to the large shower stall and includes a chrome showerhead on a slide bar, again complemented by the highest quality non-slip flooring.

The VIP guest stateroom forward features a queen island bed with innerspring mattress and hanging lockers port and starboard, its own ensuite with separate shower stall and contemporary style bowl and vanity cabinet above the solid surface bench top, with lots of storage below. Standard entertainment in this guest stateroom is a 22" LED TV/DVD combination with Fusion AM/FM stereo, Bluetooth and USB port including two speakers. Fixed portholes are standard and bring in even more natural light, complementing the overhead deck hatch.

The starboard twin cabin with full-length beds also has an overhead deck hatch with Oceanair screen as well as an ensuite which doubles as the day head. The port-side cabin features adult-sized upper and lower bunks.

THE POWER AND TECHNOLOGY IS YOURS
Having now launched hundreds of pod-driven luxury pleasure yachts, Riviera is at the forefront of a marine propulsion revolution that offers an excellent power-to-weight ratio for improved performance, enhanced torque, improved fuel efficiency, simple maneuverability, reduced environmental impact and quiet operation thanks to under-water exhausts.

In simplified terms, Volvo Penta's innovative Inboard Propulsion System (IPS) features twin pod drive units, each of which is capable of turning independently to provide the correct thrust to move the yacht in the exact direction required by the skipper easily controlling the system with either a steering wheel and throttles or a joystick.

The 6000 has a joystick at the helm and an additional joystick as standard in her cockpit so a skipper, either solo or with a novice crew, is able to simply push and twist the joystick and the yacht will respond immediately, pivoting in place or tracking sideways into a berth that's just long enough to fit the yacht.

IPS also offers a Dynamic Positioning System (DPS) for station-holding while preparing lines and fenders or while waiting off a fuel jetty, the convenience of Auto Pilot, manual trimming with optional auto-trim, as well as a highly-efficient Anti-Corrosion Protection (ACP) unit mounted to the transom to reduce maintenance of sacrificial anodes.

The three-blade nibral, forward-facing, counter-rotating propellers are protected by the premium anti-foul coating PropSpeed to achieve a long service life, as well as 316 marine-grade stainless steel line-cutters from Volvo Penta, for protection from ropes, fishing lines, plastic bags or nets - these precision-made line cutters create a very efficient rotating cutting action without increasing drag or fuel burn.

The 6000 Sport Yacht employs the revolutionary Volvo Penta propulsion system with twin IPS2-950 (533kW/2 x 725hp) D11 engines and pod drives. This is a perfectly matched drive package for the 6000 and the system's Class 5 commercial rating assures enhanced reliability even for high-use, high-speed planing commercial vessels.

Additionally, the IPS2-950 system is fully certified under the Det Norske Veritas and Germanischer Lloyd (DNV GL) classification system.

CZONE SIMPLICITY
The fully integrated CZone digital switching system enhances the ease of monitoring and operation of the Riviera 6000's onboard systems even further, extending centralised, touch-screen control to lighting, pumps, batteries, entertainment systems
and appliances.

CZone allows owners to operate multiple circuits at a single touch, energising all lighting and electrics depending on your requirements. It comes pre-programmed with three Modes - "entertaining", "cruising" and "dock unattended" - and these modes can be customised by the owner so the system works exactly how you want.

Other user-friendly features include interior light-dimming, timer controls, automated circuit control, wiper speed and wash functions. There's also a "service" mode that shuts down all power and systems.

Based on industry-proven Controller Area Network (CAN) technology, the CZone system offers DC and AC switching and over-current protection. Full systems monitoring (with alarms) including AC voltage, current, frequency and kilowatts, DC voltage, current and remaining battery capacity, along with tank levels and indication for systems in operation, is clearly displayed on the 10-inch touchscreen at the helm and 3.5-inch colour control screens in the galley and master stateroom. There's also the option of additional iPad connectivity, so you can control CZone from anywhere onboard your yacht.

ENGINEERING EXCELLENCE
All batteries on board the 6000 Sport Yacht are maintenance-free to ensure carefree boating and are housed in special battery boxes in accordance with American Boating and Yacht Council (ABYC) and the European Union's CE industry standards.
The 6000 has two starting battery banks comprising two batteries per bank for the port and starboard engines. The house battery bank comprises six batteries, and there are two batteries in the auxiliary bank. Individual alternators for each battery bank ensure charging systems are optimised whilst underway and an emergency parallel function provides increased reliability, just in case you are ever faced with a flat start battery bank. All battery banks are isolated at the main battery panel in the utility room.
The house power is 24-volt, which allows for simpler charging, lower current draw and smaller cables (further reduced weight) than equivalent 12-volt systems. The Mastervolt AC-DC inverter (5kW 230V 50HZ/4kW 110V 60HZ) provides power to the icemaker, entertainment systems and all outlets onboard, ensuring watching television while relaxing quietly at anchor is whisper-quiet.
The air-conditioning, cooking appliances and many more comforts of home are powered by the Cummins Onan 22.5kW (75 Amp 50HZ) generator, which features a water separating muffler, sound shield, remote stop-start function, state-of-the-art diagnostics and hour meter. The generator's optimised mounting system greatly reduces vibration.
LED lights provide trouble-free boating while reducing electrical current draw. The lamps use less than 10 per cent of the power required to run a bulb lamp - no bulbs mean no maintenance and long service life. Additionally, Residual Current Device/Ground Fault Circuit Interrupter (RCD/GFCI) provides protection over the entire yacht and also complies with ABYC and CE standards for safer boating.

IMPECCABLE PEDIGREE
The confident poise of the 6000 Sport Yacht is just as evident offshore as it is at anchor - her solid and robust hull with keel is the evolution of our rich 35-year heritage of building almost 520
Feature
Details
Hull Material
Fibreglass/GRP
Length
17.68 m / 58′ 0″
Beam
5.38 metres 17 feet 8 inchesm
Draft
1.28 metres 4 feet 2 inchesm
Displacement
21,300 kgs Tonnes
Engine
Twin IPS2-950 (533kW/2 x 725hp) D11 engines and pod drives
Genset
Cummins Onan 22.5kW (75 Amp 50HZ)
Fuel
2,650 litres
Water
750 litres
Accommodation
In the standard layout, transition glass helps flood the full-beam master stateroom with natural light when the large and luxurious port-side ensuite is not in use, yet offers complete privacy at the press of a button. There is also a make-up table and ottoman forward and a three-seater leather lounge to starboard.

The VIP guest stateroom forward features a queen island bed with innerspring mattress and hanging lockers port and starboard, its own ensuite with separate shower stall and contemporary style bowl and vanity cabinet above the solid surface bench top, with lots of storage below. Standard entertainment in this guest stateroom is a 22" LED TV/DVD combination with Fusion AM/FM stereo, Bluetooth and USB port including two speakers. Fixed portholes are standard and bring in even more natural light, complementing the overhead deck hatch.

The starboard twin cabin with full-length beds also has an overhead deck hatch with Oceanair screen as well as an ensuite which doubles as the day head. The port-side cabin features adult-sized upper and lower bunks.
Disclaimer: Vessel details are believed to be correct but interested parties are advised to make their own enquiries. We recommend independent surveys and mechanical inspections on all vessels we sell.
Price is shown
 in AU$. 
Click here
 to convert AU$ to your currency.